The Flower Show Postcard Set
Created in special celebration of The Flower Show at L.A. Louver, this postcard set reproduces artworks from the exhibition by 6 of the 53 artists: Penelope Gottlieb, Mary Beyt, Rebecca Campbell, Matt Wedel, Shaun McCracken, and Pancrace Bessa. 

Each postcard measures 4.5 x 6 in. and was printed locally in Los Angeles. 
Artwork details are included on the back of each card. Each set comes packaged in a paper envelope stamped with The Flower Show logo.
Learn more about The Flower Show on view at L.A. Louver 7 Jun - 1 Sep 2023: lalouver.com/theflowershow.
See details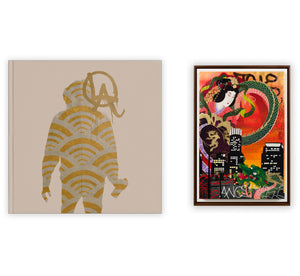 Limited Edition Gajin Fujita Print and Special Edition True Colors Catalogue
In celebration of L.A. Louver's exhibition Gajin Fujita: True Colors, a special edition catalogue and limited edition print, both signed and numbered by the artist, are available for purchase.
Gajin Fujita: True Colors is a 150-page fully illustrated catalogue published on the occasion of the exhibition. This publication includes an introduction by L.A. Louver Founding Director Peter Goulds and an essay by art critic David Pagel.
The signed and numbered 10 x 7 in. (25.4 x 17.78 cm) Queen of the Angels print has been created exclusively for Gajin Fujita's 2023 exhibition in an edition of 250 on archival Mohawk Superfine paper.
TheQueen of the Angels print is only available for purchase for $500 as a companion to the signed and numbered special edition catalogue.
Gajin Fujita
Queen of the Angels, 2023
10 x 7 in (25.4 x  17.8 cm)
digital print on paper
edition of 250
See details