Matt Wedel: Phenomenal Debris
The accompanying catalogue for Ohio-based artist Matt Wedel's first major museum exhibition at the Toledo Museum of Art, this generously illustrated book explores the astonishing energy that Wedel has brought to the field of contemporary ceramic sculpture. A prolific maker, he regularly pivots between stoneware, earthenware, and porcelain, exploring the expressiveness of material and color. Matt Wedel: Phenomenal Debris investigates the development and cross-pollination of figuration and landscape in Wedel's ceramic sculptures, as well as his own psychology and how it transforms both his work and the way he perceives his role as artist, father, and global citizen.
See details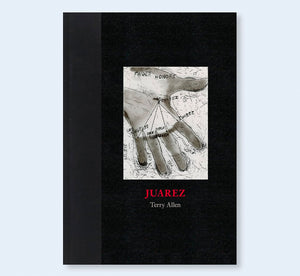 Terry Allen | Juarez
Hardcover, 8.5 x 11 inches, 108 pages, 12 duotone plates
In 2022 Nazraeli Press issued a tribute to Terry Allen's sprawling, multi-part project Juarez in a publication which reproduces Allen's lyrics alongside twelve new etchings. The etchings, made specifically for this publication, illustrate the continued expansion of the Juarez mythology. Revisiting previously explored visual forms and stories in black and white, the etchings feel as though Allen is experiencing these stories as personal memories. In relation to the earlier Juarez drawings which are colorful and illustrative, these most recent images evoke more sinister aspects of the story through harried, aggressive linework and heavy-handed shading.
This first edition of the book, limited to 1,000 hand-numbered copies, is available for purchase through L.A. Louver in honor of Juarez: Now and Then, an intimate presentation which exhibits Allen's new etchings created in 2022 alongside early works on paper from the Juarez universe, dating back to the 1970s.
See details